An Interview with Author/Illustrator Qian Shi
Fresh off the publication of her debut picture book The Weaver, Qian Shi joins us for an interview about the creative process, her inspirations, and writing for a twenty-first century audience. The interview was conducted as part of our series that promotes BAME authors and their works in anticipation of our BAME-themed panel at the ChLA Conference in June. Her book deals with how we learn to move on from loss by creating memories.
Stanley the spider is the titular weaver of the book. He leaves his friends by hitching a ride on the wind, and carried to his new home, he begins to collect objects such as leaves, acorns, and flowers to decorate his web. When a storm comes and washes away his collection, he decides to spin the memories of these objects into his web.
OB: What sparked the idea for The Weaver?
QS: The short answer is that I saw a piece of leaf stuck in the middle of a spider web, somehow this scene just got my imagination going. The full answer is that The Weaver is a story about what I have been through my life—I'm originally from China, and have lived in Norway, Denmark, eventually UK since my early 20s. My life was formed and transformed through all the years of moving around, it hasn't been the easiest experience partially due to my ever growing collections of books, things, even furniture! Finally, I was quite into the idea of minimalism, although I have to admit that I would probably never be able to be a minimalist myself, I have given a lot of thoughts about it. So then, when I saw this leaf on the spider web, the story of The Weaver formed in my head.
OB: The Weaver is your first children's book, what inspired you to write this story as a picture book and not an animation?
QS: I've always wanted to write a picture book, and this story feels right as a picture book story. And more importantly, the kids/readers can access a picture book much more easily through school workshops, bookshops and public libraries, whilst an animated version of this story can be quite charming, I would still love to turn this story into an animation short film someday in the future. In fact, I've animated a couple of clips for promotional purpose.
OB: How was the process of making The Weaver different than making an animated film or short?
QS: First I would say that an animated film and a picture book share a lot of things in common, for sample the Characters Designs, the Story Arch, etc. In terms of the difference, when comparing the two medium: a film has a fixed linear timeline, audience experience the film's pacing as given, whilst the readers of a picture book can look at one spread as long as they want, or to flip through the story as fast as they wish. Therefore, pacing is the biggest challenge in transitioning from making animated films to creating a picture book.
Coming from an animation background, I naturally want to show movement, I could draw a sequence of continuing poses when I want to stretch the time in order to emphasis emotional transitions of the character. Or, I could really jump from one moment to another, for instance, when the rain first comes, the raindrops fall diagonally but in the next page when everything is falling, the raindrops become vertical, the contrast between these two pages creates a sense of speed.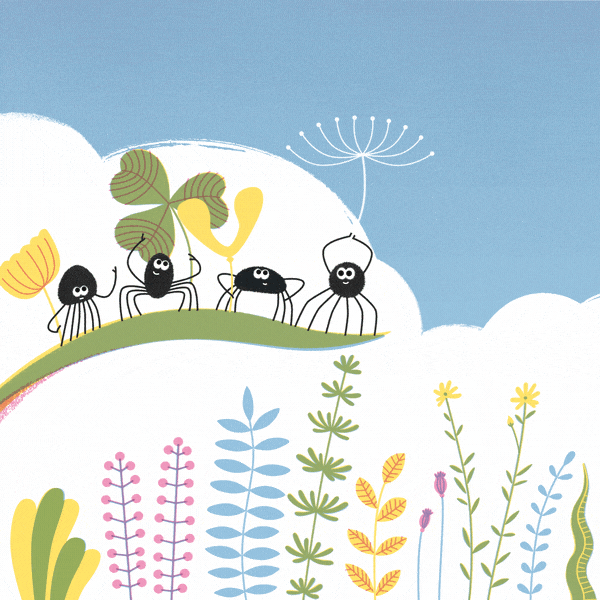 OB: What sort of research did you do to write this book?
QS: I read about spiders of course to learn how is their life span, how do they build webs, etc., but mostly I gathered a lot of images of different plants and flowers, online also in real life—somedays I would take a walk and look at all the wild flowers. This project has inspired me to observe and appreciate small beautiful things around me, for this I feel truly blessed.
OB: While reading I thought Stanley was an unusual name for a spider. How did you select the name Stanley for your spider protagonist?
QS: Coming up with a name for the main character was the hardest thing! Both Libby and I have suggested quite a few names to each other, we wanted something that's catchy, pure also related, but none of them felt right. So "he the spider" hasn't got a name until the project is almost completed, then I went to this Stanley Kubrick exhibition, suddenly I thought: Stanley Kubrick was a collector, and yet he is so creative and have done lots of great movies which influenced generations of artists and filmmakers, Stanley rhymes with Spider too!
OB: Which particular authors and/or artists do you look to for inspiration?
QS: Since I grew up in 1980s China, I was not exposed to vast choices of illustrated books; however, I have vivid but fragmented memories of Tintin's adventures. Later, in order to learn to read in English, I got into classic western children's books such as Roald Dahl and Beatrix Potter. Funny that it seems I'm doing it the wrong way around!
My all time favorite author is Roald Dahl, and my favorite illustrator is Tove Jansson. I especially love the quirkiness of her Moomin series, the slightly dark Nordic humour. I also follow a lot of great illustrators' work, to name a few: Laura Carlin and Jon Klassen.
OB: The Weaver has already been translated into simplified Chinese. Are there plans to translate Stanley's story into more languages?
QS: The Weaver now has a simplified Chinese version (written by myself), also translated to traditional Chinese and Korean. I of course hope in the future there will be more co-edition coming out, fingers crossed!
OB: Any upcoming projects you would like to share with us?
QS: I am working on a new story, much similar to The Weaver, this new project is about a journey of self discovery. It's still under development, but I will definitely keep updating on social media once it's ready.
About the Author: Qian Shi is an animation director, designer, and illustrator. She grew up in Shijiazhuang, a northern city in China and has always been drawn to stories and loved making pictures. Her short animation Shoe won two awards, and she has worked with Donna Wilson, Volvo, and Disney. She now lives with her husband, Callum, in East London.
Website: www.qianshi.co.uk
Instagram: @qian.shi
Twitter: @qianshi_design
Facebook: https://www.facebook.com/QianShi.Illustration/